Hello Radiant Ones!
Do you ever think back to your first love? Many of you know me as a natural hair stylist, and the face behind Indigofera. This weekend I had an encounter with my first love. Makeup. Yes! I actually started my beauty career as a makeup artist and evolved into the natural hair industry. I attended the NY Makeup show. Sam Fine's workshop was so inspiring. It reminded me why I loved transforming women with a flawless face.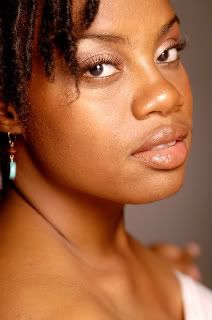 Althought my natural hair styles have been seen on BET.com, won awards at natural hair show and circulate on numberous natural hair sites and blogs sometimes without my permission (wink), make up is my still first love. Brows are my thing. I love shaping, defining and highlighting beautiful brow. Lashes (done right) are another service that I enjoy doing to create a fabulous face.
Photo: Chanelle at the Studio in Philly 2007
For those of you who were fortunate enough to visit "The Studio" have a look at this service menu for my Indigofera Skin & Body Services. The Bliss and Beauty Session sounds really good right out now. Let's see what to future holds as I rekindle my passion for my first love.
This image is from the Indigofera archives our current number is 800-308-1182
Want to learn more about my beauty philosophy
www.indigoferainstitute.com
Pre Register for the 1 day certification course