*
Noticeable softness, manageability and shine from first use
*
Delivers essential nutrients
*
Imparts brilliant shine without weight
*
Formulated with certified organic ingredients
Infused with aromatic botanicals, herbs, & 100% essential oils
Infused with Serenity Blend Essential Oil
*
Prepares scalp and hair for Hair Care Ritual
*
Infuses hair with Premium plant-based emollients
*
Gently Cleanses and Replenishes the Hair
*
Restores optimal health and softness
Saturate hair thoroughly with warm water. Apply 3- 5
pumps of Aromatic Hair Cleanser close to scalp.
Massage into a moisture rich later, work down
length of hair. Rinse well and repeat as needed.
Infused with Serenity Blend Essential Oil
*
Provides Intense moisture to the core of each hair fiber
*
Protects dry and color-treated hair
After cleansing with Aromatic Hair cleanser, squeeze
excess water from hair and take a half dollar size
amount of Botanical Conditioning Crème in the palm
of your hand. Rub your palms together and apply
evenly to damp hair.
Leave on for 5-7 minutes
and rinse well with cool water.
*"I absolutely love how this conditioner makes my
locks feel
softer than soft
with no build up"
*For loose natural hair detangle with your finger
or a wide tooth comb while conditioner is restoring.
*
Intensive Hair Mask
Apply to hair, 3 parts Botanical
Conditioning Cream and 1 part Organic Hair Souffle'.
Cover with plastic cap and steam or heat for
Infused with Lemongrass Essential Oil
*
Penetrates hair with pure aloe and virgin coconut cream
*
Leaves hair softer, healthier looking, and manageable
*
Revitalizes hair from the inside out
Apply it as the 3
rd
step to damp conditioned hair
then style as desired. Rub a half dollar sized amount
into palm and massage evenly into hair. You may
nourish anytime, but for best results don't forget
to apply to damp hair right after the cleanse and
For loose natural hair get envious shine and
softness with your twist, twist outs, coil sets, and free fros
(Nourish every 2-3 days as you like)
Must-have for transitioning!
Locks love Organic Hair Souffle, it is not formulated as a twisting
crème but more importantly essential hair care
for healthy beautiful tresses.
( You will only need it weekly to nourish your locks)
·
Twist crèmes, gels, setting sprays groom
the new growth, but how are you caring for the
Infused with Lemongrass Essential Oil
*
Maintains scalp moisture level
*
Enhances natural luster to hair
*
Distributes multi-layered plant-based nutrients
*
Leaves hair with radiant shine
After your hair is cleansed, restored and nourished,
apply a thin layer of Botanical Hairdress to your scalp.
For noticeable dry scalp and flaking apply generously
after cleansing and every 2-3 days to effected areas.
"My loose natural hair is kinky and very course."
Expert tip: Rub Botanical Hairdress between your
palms and work into ends for intensive moisture
scalp care and repair treatment
Infused with Lemongrass Essential Oil
How to use: After styling hair rub a small amount into
palms and apply to scalp and hair.
·
Intensive Treatment Cocktail
Apply a small
amount mixed with (Botanical Conditioning Cream or
Organic Hair Souffle) to clean damp hair. Cover with
plastic cap steam or heat for 25 minutes. Rinse well
comb out, between styles, or every 2-3 days
Infused with Lavender & Peppermint Essential Oil
*
Leaves hair with radiant shine
*
Rejuvenates moisture in between styles
*
Invigorates the scalp & hair with peppermint, sage, & nettle
*
Detangles & hyrdrates with vitamin rich avocado oil
Spray through out hair and refresh scalp as needed.
·
For loose natural hair, perfect for detangling and
·
For locks hydrates and moisturizes at the same
·
Use as often as you like
Indigofera's 100% Money Back Promise
You'll love it or we will buy it back, period.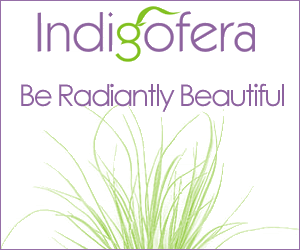 Like our blog? Please share on facebook or retweet. Thanks!
Watch our videos and join discussions on facebook
Chanelle